I hate dating.
Seriously. It's not like my head's not full enough without having breakup crap joining the chorus of noise. I wasn't joking in 2005 when I said one of the things that makes marriage look good is the prospect that I wouldn't break up with anybody again. Or I'd have a 50% shot, anyway, which aren't bad odds, and I can make them better by choosing carefully. *grin*
I'm on another round of buying motorcycle gear. "Another"? It doesn't really seem to end, does it? But it will. It's just that the weather changed right as I started riding. It gets quite chilly now, and my sport-riding jacket isn't windproof or waterproof, and doesn't have any room for layering clothes underneath. So I have a couple more items to pick up, and then I'm indefinitely done.
All that by way of noticing this evening as I rode home that it was very dark, and the early dark gently brought up some nagging memories. Smells are so much more powerful; something so environmental as early darkness took a little time to come around to.
Freezing cold winter days, coming home and having a fire in the fireplace. Sometimes we ate dinner in front of the fire, sometimes the fire just got going while we ate and watched M*A*S*H*.
The two seasons I spent on the diving team. Practice was usually in the evening, and I remember the smell of chlorine and the feel of itching skin, and drying my hair thoroughly because I remembered having frozen hair when I got on the bus in grade school, and it was annoying. Of course, even with merely damp hair, the real problem is that it fucking cold, and there's only so much you can do. But I remember getting into the family minivan, which I'd wrangled the use of (Mom & Dad, I'm not sure if I ever explained how much easier and more fun that made high school for me) for the 22-minute drive home.
Leaving class in college, crossing the frozen tundra of campus to grab some food before a cappella rehearsal.
And finally, on this election night when America finally seems to have woken up a bit, I bring you...the Awesomest Headline Ever. Read it. I'll wait.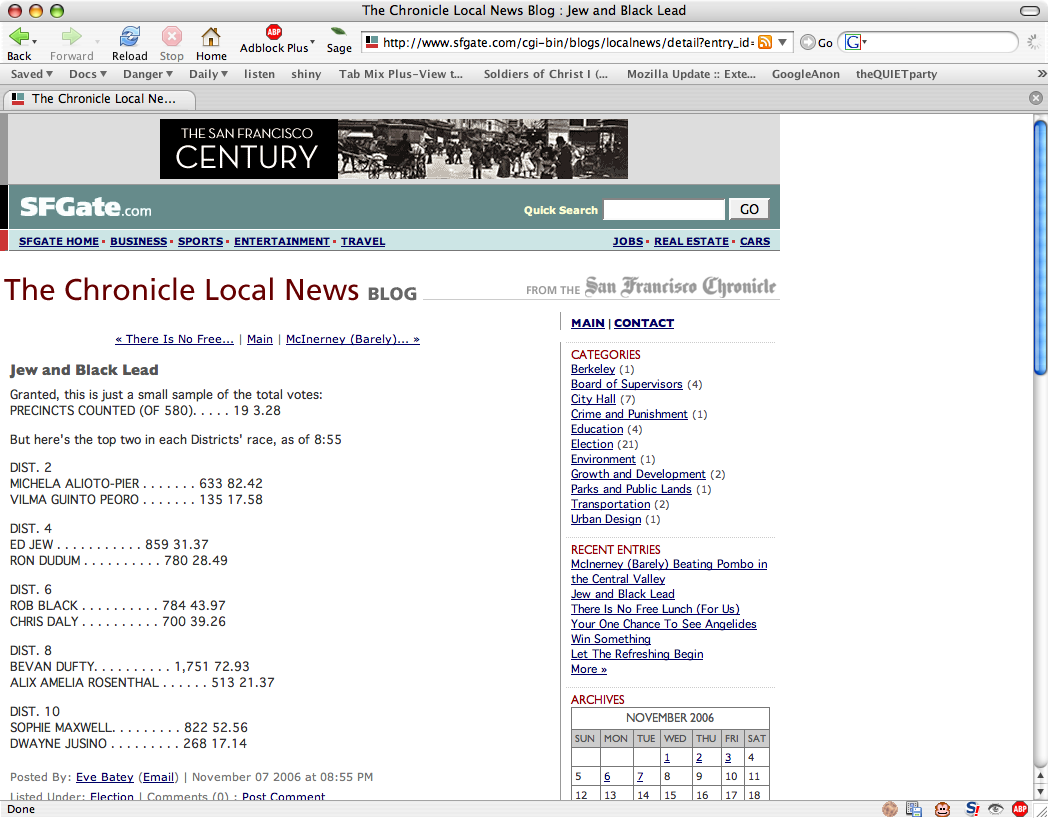 Yay.
---
Chris